Ich habe mich entschieden bei dieser Aktion mitzumachen, da ich die Idee von
The emotional Life of Books
sehr gut finde! Ich denke jeder von uns hat schon mal ein Buch nur wegen des Covers gekauft und dann einen extra guten Platz im Bücherregal gesucht. Es gibt immer wieder neue Schönheiten unter den Buchcovern und meine Liebsten werde ich euch wöchentlich vorstellen.
Ten Thousand Skies above You von Claudia Gray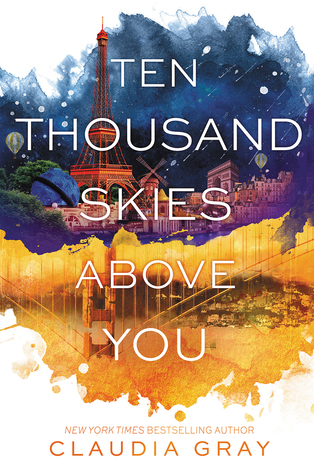 Inhalt
Ever since she used the Firebird, her parents' invention, to cross into alternate dimensions, Marguerite has caught the attention of enemies who will do anything to force her into helping them dominate the multiverse—even hurting the people she loves. She resists until her boyfriend, Paul, is attacked and his consciousness scattered across multiple dimensions. Marguerite has no choice but to search for each splinter of Paul's soul. The hunt sends her racing through a war-torn San Francisco, the criminal underworld of New York City, and a glittering Paris where another Marguerite hides a shocking secret. Each world brings Marguerite one step closer to rescuing Paul. But with each trial she faces, she begins to question the destiny she thought they shared.
(Quelle: Goodreads)

Meine Meinung
Ich liebe die Cover dieser Reihe von Claudia Gray. Es sieht einfach unheimlich gut aus wie die gegensätzlichen Städteskylines in die unterschiedlich kräftigen Farben getaucht sind. Mir gefällt das dunkle blau und gelb-orange sehr gut und es passt zu den wirklich schönen Wahrzeichen der Städte Paris und San Francisco.
Wie gefällt euch das Cover? Kennt ihr die Reihe?